Festival provides great showcase for producers
A couple from South Shields, who have run a successful Indian restaurant for the past six years, plan to take festival food to the next level.
Amina Rahim and Begum Uddin gave visitors to The Great North Feast – held in Bents Park over the Bank Holiday weekend – a taste of what is to come with their well-equipped outdoor kitchen and a choice of mouth-watering street food.
The husband and wife team, who own the Mivesi restaurant in Alnwick, have decided to base their business in their hometown and make festivals their priority. To minimise customers' wait for their freshly cooked food, for instance, the couple have built an oven which can bake 250 naan breads an hour.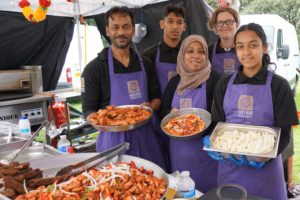 "Although festivals are new to us, we've decided to concentrate on them because people's palates have changed so much," said Amina. "Food at festivals provides an opportunity for people to try something different without breaking the bank, and we've got to make ourselves larger than life so we stick out." The sight and smell of slow-cooking meat on Smokiedokies' enormous barbeque are also hard to miss.
The business was set up two years ago by chef Micky Brown from Hetton-le-Hole, who is determined to always use local suppliers: from his beef, provided by Sedgefield-based George Bolam Ltd, to his charcoal from the Durham Wildlife Trust. "It keeps everybody going. One supports the other," he said.
"People know more about food now. They don't come along and just expect the greasy burger. They expect something that's home-made or had a bit of thought go into it, rather than just freezer products."
When Bridget Deane is not lecturing Newcastle College students in Media Production she is busy selling her jams and chutneys through her business Fat Lass Preserves. "As a larger lady myself, the word fat seems so negative and often used in a hurtful way. Fat Lass Preserves is all about enjoying food and quality ingredients without guilt and I think you'll be happier and healthier for it.
"I've tried to lose weight over the years – eating low fat this and no sugar that – and I've probably never been thinner since I stopped doing that and started enjoying food," she said.
Event organiser Mark Deakin said next summer Bents Park will again stage The Great North Feast as well as the Proper Food and Drink Festival.
"It's a perfect location for everybody who comes as well as all the producers, chefs and behind-the-scenes team," he said. "More and more people in the North East are deciding to turn their passion into making fantastic products and we're really proud that the events we run – The Proper Food and Drink Festivals, The North East Chilli Fest and The Great North Feast – provide such a great opportunity to showcase these businesses."