Triplets' success at Cramlington Learning Village
Sixteen-year-old triplet sisters are counting the success of their GCSE results.
Between them Erin, Niamh and Ella Robson, who are students at Cramlington Learning Village in Northumberland, amassed 27 grades at A*, A, 7, 8 and 9.
"We're not really competitive. We just wanted us all to do well," said Niamh. "I thought I had somebody else's results. I thought this can't be right," said Ella.
Niamh and Ella studied the same subjects for GCSE, whilst Erin had chosen Geography instead of French.  But, for A Level, they are going in slightly different directions. Niamh will study Biology, Chemistry and Psychology.  Erin's A Levels will be English Literature, Geography and History, and Ella has opted for Biology, Psychology and PE.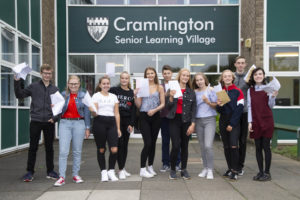 Seventeen other students at the school also achieved eight or more grades of A*,A, 7, 8 and 9. Overall, 70% of all students achieved the benchmark grade in both English and Maths. Nearly 80% received a grade 4 or above in English and nearly 80% also achieved the same standards in Maths.
Hope Dodds was awarded eight grade 9s and one grade 7.  She is taking Biology, Chemistry, Physics and Spanish at A Level and hopes to study Medicine at university. "I'm really thankful for the help my English teacher gave me because I didn't have much confidence in my grade, but I got a 9 overall."

As well as academic success – he received six 9 grades, an A* and two 6 grades – Josh Fiddaman has also had an outstanding sporting year, coming second in the 800 metres in his age group's indoor national championship. "The school has been really supportive in everything I've done," he said.  Josh is studying Chemistry, Biology and PE at A Level and hopes to then do a degree in Sports Science.
Head teacher Wendy Heslop said: "This is a very pleasing set of results for the school.  The new exams in many subjects have been challenging for both students and staff and they have performed incredibly well.  I am delighted with the results of the whole year group, which reflect their hard work and commitment."
Last week two of Cramlington Learning Village's A Level students, who overcame immense personal challenges, received outstanding results.
Dan Mattison was still being treated for leukaemia in January but managed to get A grades in Biology, Chemistry and Maths. He is going to study Medicine at Newcastle University and hopes to become a doctor.
Peter Hayton, who was born with a visual impairment, will also be going to Newcastle University. He will be studying Computer Science after getting an A* in Business, an A in Computer Science and B in Geography.