9/11 experience shaped approach to business
The head of a North Tyneside design agency says working on the biggest news story of the century has shaped his approach to business.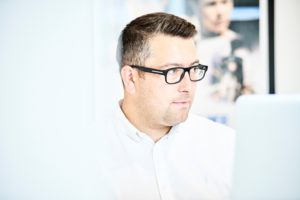 Paul Hart of Cargo Creative became part of the BBC News Online team at the iconic Television Centre in June 2001.
On September 11 he arrived for his first late shift just as the second plane flew into the World Trade Centre in New York.
"Like everybody else I'll never forget that day," said Paul, who grew up in North Shields. "The newsroom went from its normal hustle and bustle to silence – and then organised chaos."
The scale of the story, 17 years ago, challenged all news teams and particularly the BBC's relatively new online service. "That day I was continually designing special news pages and information graphics. My shift was meant to end at 10pm, however I was still there at 4 the next morning.
"It was really tough – because of the nature of the story and the demands of work that day – but people tend to go to the BBC as a trusted source of news and, as part of the team, I knew I had a duty to play my part in keeping them informed," he said.
"Working in any news environment is all about delivering high quality, accurate and creative work to deadline. One day might be fairly routine when suddenly there's a breaking news story and you're really up against it.
"That experience has been very important for Cargo. We have a reputation for being a reactive agency, which sometimes puts us under pressure but it also enables us to deliver."
Paul's career in London – where he also worked on the Sunday Times and Observer – was sandwiched between two spells at Newcastle College: first as a Newspaper Design student and then as the head of the Editorial Design course.
The change in the course's name reflected the growth of online news and the changing habits of young readers, said Paul, who is rightfully proud that a number of students now hold notable positions within publications both in the North East and London.
Cargo was launched in 2009 after Paul left teaching. Six years later, as it grew, the company moved its studio from the Cobalt Exchange to Northumberland Square in North Shields. It has just had its most successful trading quarter and recently recruited a new designer and a content writer to join the team.
"We're delighted with our new colleagues. Our core staff has been with us for more than five years. We're a good responsive team that clients like working with. Everyone in the team knows our clients. We are not faceless," said Paul.
Cargo provides a range of creative and other services – now including strategic digital marketing – to ensure that as the lines between brand, marketing and digital become increasingly blurred it is able to work with clients to find the most appropriate way for them to engage with their customers.
"The way we receive information has changed dramatically in the last 20 years," said Paul. "We help clients steer their way through the many different routes of communication – whether that's print, digital or a combination of both – and deliver high quality creative work to support their objectives."
Cargo works with a range of clients, including Northern Powergrid, Perspective Financial Group Limited, Generator, The Angling Trust and a number of well-known law and accountancy firms. It also works with start-up companies and charities.
For more information about Cargo Creative visit its website www.cargocreative.co.uk/