WILTON CENTRE BUSINESS INSPIRING NEW GENERATION OF ENGINEERS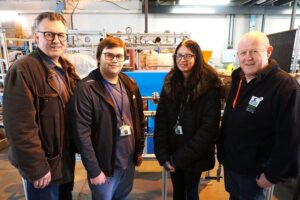 A company, based at the Wilton Centre, is working with Redcar and Cleveland College to train and inspire the much-needed new generation of Net Zero engineers.
JBA Engineering is developing a Carbon Capture Training Rig which will become a key part of the college's new £3.2m Clean Energy Education Hub.
Students have visited the Wilton Centre – part of Pioneer Group's portfolio of eight UK sites – which accommodates a number of companies engaged on Net Zero projects as well as the circular economy.
There they saw the progress of the rig which will replicate what they will find when they start their jobs.
"It's great to see one of our occupiers working with our local college," said Claire Morton, the Wilton Centre's Leasing and Assistant Asset Manager. "Hopefully before too long some of the students will be coming here to begin their careers."
Providing young people with skills for their futures
One of those could be 17-year-old Level 3 engineering student Warren McConnell who believes the rig will help him prepare properly for the world of work. "You'll be able to see how it works, take it apart and put it back together again," he said. "We'll actually be doing it rather than looking at a screen and imagining how it works."
The rig has been developed by JBA's subsidiary business DarbyTech Training Equipment and, as well as all the working parts, QR codes are positioned around the equipment to provide students with access to e-learning resources.
Russ Holmes, JBA's Operations Director, said: "This rig will help provide people with the knowledge and the skills for the jobs of the future in the new clean energy industries on Teesside."
DarbyTech's Managing Director Gary Lawson added: "This is all about providing a hands-on learning experience in a safe environment. At the same time, we're all trying to inspire young people about engineering and highlighting the very real difference they'll be making to the future of the planet.
"We've sent training rigs to the United States, Mexico and the Middle East.  We've even sent equipment that teaches students at university in Alaska how a wellbore works but this is the first time we have provided a rig to train young people in our region."
For 17-year-old Redcar and Cleveland College engineering student Maddi Darbyshire it will help her achieve her lifetime ambition.  "It was always my dream to do something like this," said Maddi who is about to move on to her Level 4 course.  "From there I'm either thinking about going to university or straight into a job linked to this."
Dave Thompson, who is leading the carbon capture training rig project at Redcar and Cleveland College's Clean Energy Education Hub, said around 100 students will start training there later this year and their new skills will be in much demand: "There is a massive skills gap in engineering, as the workforce is getting older there is a clear gap that we must work towards filling."
The Clean Energy Education Hub
He said it was vital that the training ring simulated a live and active plant: "The kit the students are working on needs to look like what they'll find in industry. We wanted something that was impressive, had some height to it and was equipped with proper vessels – and that's what we're getting."
The Clean Energy Education Hub is funded primarily by the Town Deal – part of the government's levelling up strategy – with additional investment from the Education Training Collective and the Skills Development Fund.
As well as providing training for school leavers and adult learners, the hub will also offer higher education, commercial, professional, and bespoke employer-led programmes.
The project has also received a donation from bp – which is involved in three projects in the region – to bring community engagement and further development to the hub, with a focus on raising awareness of the opportunities within the clean energy sector among local school children.