Willow Burn Hospice opens third charity shop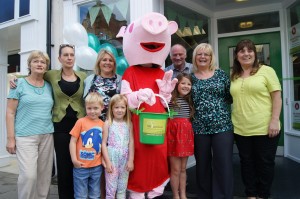 Willow Burn Hospice, which has treasured the lives of more than 10,000 patients in County Durham since 1989, has today opened a new charity shop in Chester-le-Street.
"I am sure the new shop will be as popular as our others in Stanley and Consett," said Helen Mills, CEO of Willow Burn. We're offering high quality clothes and gifts at bargain prices and our customers know that by buying things from our shop could one day help to support a family member, friend or neighbour with palliative and end of life care needs."
Proceeds will support Willow Burn's current services – including the Sir Tom Cowie Day Hospice which opened in July 2014. This was the first stage of an ambitious transformation programme planned to be completed by 2020. Those plans include the building of a £2.2m in-patient hospice which will increase the number of beds from four to six.
"People have been so generous over the years even when money has been tight," said Katherine Luke, Income Generation and Marketing Manager. "Public support and donations are the only way we can continue and improve the care and facilities we provide for our patients and their families when they really need us most."
Willow Burn Hospice's fundraising continues with a golf day at Slaley Hall in Northumberland on 24 September. Details are available through the charity's Income Generation and Marketing Manager Katherine Luke via kluke@willowburnhospice.org.uk or fundraising@willowburnhospice.org.uk.
The hospice's fourth charity shop is due to open in Bishop Auckland in the Autumn.