Local producers quench thirst of Whitley Bay festival goers
Thousands of people visited Whitley Bay's Proper Food and Drink Festival at the weekend to lap up the sunshine as well as the refreshing drinks provided by local producers.
Sparkling lemonade, homemade by Nathan Bye of Tap Garden, proved particularly popular. Nathan, from Whitley Bay, set up the business a year ago after years of travelling abroad.
His idea for Tap Garden developed when we worked at outdoor shows in Australia and, back home, saw that nobody was selling fresh fruity drinks at the local festivals.
"We thought we would give it a go and it seems to be doing alright," he said. Tap Garden is taking part in all six of the summer's Proper Food and Drink Festivals, as well as the North East Chilli Fest and Great North Feast. "They're great environments and a great way to spend time together as a family." Nathan and his partner Hannah have a nine-month-old baby called River.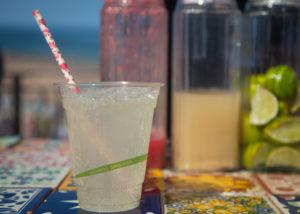 Hatch76, the brainchild of Alex Hindson – the former head chef for the Tyne and Wear Archives and Museums – is another new local business with a distinctive presence at this summer's festivals.
Alex, from Gateshead, says he is re-inventing the sandwich – specialising in duck, for instance – and it is all with the help of his refurbished and multi-functional 1976 Peugeot van.
"We spend millions and millions of pounds on sandwiches every year, but they're mass produced, put in a box and stuck in a fridge. That's when they begin to die," he said.
The sandwich, part of a daily staple diet for a large part of the UK's population, needs to be made with imagination not manufactured.
"People want quality. Just look at what's happened with beer, where small breweries have become so successful," said Alex. "People also want to support local businesses. That's particularly true in the North East."
This was the fourth year the organisers Mark and Shelley Deakin have brought their , the Proper Food and Drink Festival to Whitley Bay.
The same location, the Spanish City Plaza, has changed dramatically in that time as re-development work has progressed. "It's great to see such progress," said Mark, "and we look forward to seeing it next year."
Before then, in fact later this month, many of the local producers will make the short journey to set up their stalls for the North East Chilli Fest. For its sixth year it has a new home – in-between Seaton Sluice and Blyth's South Beach – and is taking place over an extra day. It runs from 30 June to 2 July.
"It began life as a Chilli festival, but the music and entertainment aspect has grown and grown," said Mark, who organises the event with his wife Shelley.
"We had five fantastic years in the grounds of Seaton Delaval Hall, but we needed more space for the stages, marquees, stalls and our camping area," she said. Hundreds of festival-goers are expected to stay on the site all weekend. A range of flexible tickets are still available, with options ranging from as little as £5 to £30. Tickets for children cost £3.
Heaven 17 and Smoove and Turrell top the bill on Friday and Saturday. The Baghdaddies are Sunday's headline act and numerous other performers, including SoShe, Iceni, Nick Pride and The Pimptones and 4 Worried Men, will be taking to the stage over the three days.
Visitors will also be richly entertained by Chris Cross' Flaming Hot Cabaret Club – starring magicians, jugglers and dancers – The Jumping Hot Comedy Tent, a retro Discotheque as well as The Famous Skool Disco, and a Kids' Zone.
There will be a producers' market featuring some of the UK's top chilli producers selling chilli inspired food and drink and – for those with a more sensitive palate – tasty delights provided by the very best artisan producers. A Street Food Zone and numerous bars will help keep people going over the three days.
"And there will be a chilli eating competition on each of the three days, which will not be for the feint-hearted," said Mark. "This is the North East Chilli Fest after all."
Further details and tickets are available through the 2017 North East Chilli Fest website www.chillifest-ne.co.uk.