TV Chef reveals suicide bid as he launches Kitchen Therapy
Tyneside's TV chef Matei Baran – who is providing Kitchen Therapy for people with mental health problems – has spoken for the first time about the time he tried to kill himself.
Romanian-born Matei moved to the North East 10 years ago and has worked in the kitchens of a number of high-profile restaurants and hotels. In 2016 he reached the quarter final of MasterChef: The Professionals and last he month started a pioneering cooking course called Kitchen Therapy to help people overcome their problems.
Forty-one-year-old Matei, who lives in Wallsend, said working in a kitchen had saved him on numerous occasions – particularly after he took an overdose when he was 20.
"In the kitchen I found myself in a place which gave me back my confidence, took away my bad thoughts and helped me move forward," he said. 
"Being involved in this project is amazing as I want to help and support people who share these emotional struggles. I want to show them that a kitchen can actually be a friendly place where you can find peace and motivation."
Matei is providing Kitchen Therapy in partnership with the Middlesbrough Football Club Foundation. Around a dozen trainees, some with no kitchen experience, are taking part in the eight-week course which will culminate in them cooking a five-course tasting menu for paying guests at two of Teesside's top restaurants.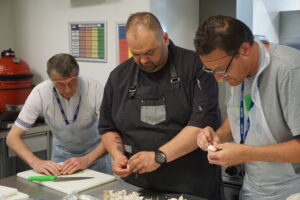 Earlier this year Matei published a recipe book – Big Chef Mini Chef – which was inspired by his young son who suffers from the life-limiting disease Cystic Fibrosis.  Proceeds from the book go the Cystic Fibrosis Trust.
Middlesbrough Football Club Foundation's Events and Fundraising Coordinator Alan Geddes said: "I think with the traumas Matei has gone through in his personal life he's decided that he wants to give something back – and that's fantastic.
"It's about giving them the opportunity to learn new skills. But I suppose, more importantly, it's about them getting inspired and building their self-esteem to go out into the world a much more confident person."
The trainees are being supported by Step Forward Tees Valley – which helps local people overcome barriers to work and training – and the Foundation's own employability scheme.
Martin Jones is a Senior Employment Engagement Officer for Changing Lives which is part of the Step Forward Tees Valley programme.
"Some have worked in the kitchen, some don't even cook at home and others totally avoid the kitchen, but that's due to their mental health issues, their anxiety and depression," he said.
"This is solving that.  For them it's a safe place for them to feel relaxed in a supportive environment. Because Matei's so relaxed and passionate about what he does, he encourages that in other people."
One of the students is Megan Cook, who is 22 and from Billingham. She worked in catering from the age of 16 and became a team leader at Middlesbrough's Riverside Stadium. "It really raised my confidence," she said.
"But I left there for an apprenticeship and that completely obliterated it. This is about getting my confidence back in the kitchen and show that I can do it.
"We're all different people with different circumstances but have come together for the same thing."
Thirty-eight-year-old Emma Stephenson from Middlesbrough said: "I eventually want to work in the hotel industry. This would be help me decide whether it is right for me. I think it's brilliant.  Hopefully I can get a job at the end of it."
The first milestone for the trainees is on Sunday 28th July at the Riverside Stadium when they will make canapes for MFC Foundation's partners before being introduced to the crowd during half-time at the Middlesbrough F.C versus St Etienne friendly.
Then, on 19th September, they will prepare a five-course tasting menu for guests at Al Forno's in Middlesbrough. On 17th October they take over the kitchen at Chadwicks Inn in Maltby and on 26th November they will present a special Christmas Feast at Middlesbrough College's Waterside Brasserie Restaurant.
For more details visit www.mfcfoundation.co.uk/event/kitchen-therapy-project-alforno-middlesbrough/
Coverage:
https://www.chroniclelive.co.uk/news/north-east-news/im-not-ashamed-talk-it-16599890
https://www.thenorthernecho.co.uk/news/17776473.39-therapy-39-chef-describes-cooking-saved-life/