Special treat for fans of nostalgia, food and live music
Fans of nostalgia, the UK's best street food and live music are in for a special treat this weekend.
After the stunning success of its debut last month, the Feast by the Sea is coming back to Whitley Bay's Spanish Plaza. This time – as well as a world menu of freshly cooked snacks, meals and drinks to choose from – the Feast has a special theme: Vintage Seaside Revival.
Visitors can walk down memory lane as they look flick through collections of vintage vinyl and buy sweatshirts, clothing and jewellery to remind them of their younger days. There will also be traditional fairground rides and sideshow games for them, and their children and grandchildren, to enjoy.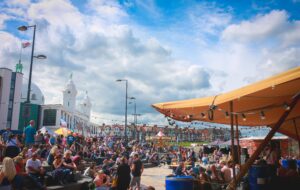 The inaugural Feast by the Sea, held in July, attracted more than 20,000 people who were treated to fantastic food and drink as well as music provided by more than a dozen live performers.This weekend (10 and 11 August) it opens from 11am to 10pm on Saturday and from 11am to 7pm on Sunday. Entrance is free.
One of the highlights of the weekend promises to be the Saturday night live performance by Jay Francis, who will be singing the songs of George Michael.
Jay, who was born in Gateshead, splits his time between homes in the North East and Spain where he is perfectly placed for his work in hotels and cruise ships.
Last year he was on the bill alongside Craig David and The Overtones on the maiden voyage of holiday giant TUI's Marella Explorer luxury cruise ship.
But he still comes back to perform in the North East, and the North Tyneside coast brings back many happy memories.
"Every weekend was spent in Whitley Bay when I was a kid.  I used to go down with my gran. Then, when I was a teenager, we used to listen to all the George Michael and Wham stuff walking round Spanish City," he said. "I've not been back there for a long time, so I'm really looking forward to it."
The other artists taking to the stage over the weekend are Salida, Tex, Soul'd Out Trio, David Stoke, Connor Pattison, Conner Haley, Brett Galloway, Jodie Fitzgibbon and Zack Hammond. On both nights one of the Feast by the Sea's organisers, Mark Deakin, will be playing hits from the 80s and 90s during his DJ set.
The event is the brainchild of Mark and his wife Shelley, who are the couple behind the highly popular and long-running Proper Food and Drink Festivals. For Feast by the Sea the couple have teamed up with Nigel Holliday, who has a successful track record in organising and running major pop up events.
"We were delighted by the impact of the first Feast and can't wait for the next one," said Mark. "Although food, drink and live music is obviously the main focus of each weekend, we like to add a little something extra. Everybody has happy memories of summers by the sea and that's why we came up with the idea of a Vintage Seaside Revival."
Spanish City Plaza is the ideal location, said Nigel who added: "Lots of people who came in July were from outside the area.  They loved going down to the beach and having a walk around Spanish City and the town.  I'm sure the Feast is going to continue to benefit Whitley Bay."
There are nearly 20 food traders coming to the Feast this weekend.  They are Piggie Smalls, Smokiedokies, Med Heads, Goodtimes Tacos, Fowl Play, Sprinkled Ices, Lebanese Food Truck,
Shanty Town, Deli Churros, Tango Durham, Phi Pie Greek, The Little Fishy, Whitley Bay Pizza Co, Parm-O-Rama, The Brownie Bar, Divine Caribbean Cuisine and Ellie's Cupcake Kitchen.
The third Feast by the Sea – and last of the summer – takes place on 7 and 8 September when one of the many highlights will be a Street Food Battle.