Search for super sellers comes to Dundas
Young Teesside traders are taking over the Dundas Shopping Centre and Indoor Market on Saturday as part of a nationwide search to find the next generation of "super sellers".
A dozen hopefuls – all aged between 16 and 30 – will be setting up their stalls for the Youth Market, where they hope to win a place in a regional heat and then compete for a spot in the national final where big prizes are on offer.
"It's a fantastic opportunity for the traders and we're sure people will come to support them," said David Harris, the Dundas Market manager, who is leading a number of schemes to encourage and promote new retailers on Teesside.
This will be the third Youth Market to take place at Dundas. Last month three businesses were given a week's free trading during the Love Your Local Market (LYLM) campaign, and throughout the year start-up businesses are provided with discounted rents and short-term leases to help them through their vital early months.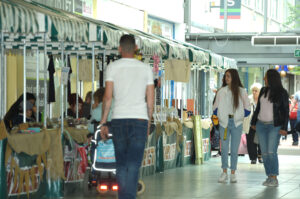 One of those businesses, the Little Vegan Market, has gone from strength to strength since opening its first store in Dundas Indoor Market 12 months ago.  Earlier this year it moved to a bigger unit.  It has already been nominated for one national award and is taking part in the Youth Market in the hope of further recognition.
On 15 June the Little Vegan Market will be trading alongside Totes Izz n Liz, which was set up by 23-year-old Rebekka Middleton from Guisborough to sell bags to raise money for a charity which has supported her family.
Rebekka's young niece is severely disabled.  She has been given special equipment by Remembering Rebecca – which was set up in memory of Rebecca Sands from Ingleby Barwick who died in 2010.  The charity has also sent her parents and sister on respite breaks.
"When it came round to my niece's birthday I didn't know what to get her, because there's not a lot you can buy her.  So I decided to set up a business with her name involved to give back to the charity who'd helped her," said Rebekka, who is a professional carer and fashion graduate.
Caught Red Handed, the brainchild of 21-year-old Sam Green from Marton, has taken part in the two previous Youth Markets.
"Sometimes it's a bit of a challenge when you work on your own," said Sam who – as well as selling his distinctive and bespoke collage photo frames – is studying for a degree in business.
"Being at the market has definitely helped me with my confidence.  When you run an online business there's a lack of face-to-face contact.  So it's good to have to think about how you set up your stall or pop up shop to make it look good," he said.
Two other businesses from last year's Youth Market – iGenius Mobile and House of Alisha are also returning. Other traders on 15 June include Vie's Bakery – selling Zimbabwean snacks – and Betty and the Lovecats, providing crafts and gifts.  Middlesbrough College will also have two stalls for the winners of its enterprise competition.
"To me they're all super sellers," said David Harris.  "It's not easy – particularly when you primarily trade online – to pluck up the courage to test the quality of your product and business idea in public.  But I believe that's the true test for any retailer."
The Youth Market runs from 10am to 4pm on 15 June at Dundas Shopping Centre and Indoor Market.
For more information about opportunities for new retailers, contact David Harris on 01642 232552 or david.harris@dundasindoormarket.co.uk.