Razorblue awarded "gold medal" for protecting data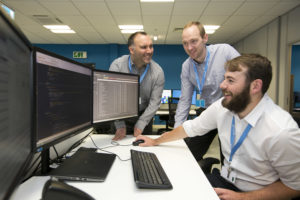 A North East-based IT company has been recognised for employing the highest level of protection to safeguard its clients' data.
Razorblue Group, which manages the information and IT systems of hundreds of businesses and organisations, has received the ISO 27001 certification – an international standard awarded to companies which demonstrate rigorous control of their information security.
Managing director Dan Kitchen said: "To many people I suspect ISO 27001 is meaningless – but to us it's the equivalent of a gold medal.
"It really sets us apart from other businesses. Very few have it in the North East and there are only a thousand or so certified IT services providers across the world. More and more clients understandably want to know that their data and network is in safe hands."
To reach the standard Razorblue had to demonstrate to auditors over many months, that it had established, implemented, maintained and was continually improving an information security management system.
"It's what we were doing anyway, but this is a way of formally acknowledging the rigor of our procedures and technology," said Mr Kitchen.
Understandably, he added, businesses want re-assurances that "their crown jewels" are being handed over to a company which not only looks after their data, but also has measures in place to combat the growing threat of so-called cybercrime.
Last year that accounted for more than half of all crimes in the UK and criminals are finding increasingly sophisticated ways to access data.
"We have to stay one step ahead," said Mr Kitchen. "But I would like to think that obtaining the ISO 27001 certification standard shows that we're actually three or four steps ahead."
Razorblue, based in Catterick, has just opened a new office – its fourth – at Wynyard Park on Teesside.
It employs more than 40 people and is looking to recruit more after posting record results and a 40% growth in the last financial year. The company was set up by Mr Kitchen when he was just 16 and this summer celebrated its 10th birthday.
Razorblue began as a cloud hosting business – and still works with some of its early clients – but has gradually evolved. Now it offers expertise in Managed IT Support, Cloud, Superfast Connectivity, Telecoms and Bespoke Business Software.
"We became an Internet Service Provider (ISP) in 2009 and built our own network," added Mr Kitchen. "We also wholly own our cloud infrastructure and the knowledge behind that goes back more than 10 years. Very few of our competitors in this region have that in-depth level of knowledge or control, and that results in a better more joined up service for our clients."
Razorblue's steady growth over 10 years has been built on its technical excellence, repeat business, recommendations and market intelligence. Its success has come amid dramatic change in the IT sector, but – said Mr Kitchen – that will continue to be the case.
"We've got to move with the market and keep up with the times – that's what we've done for the past 10 years," he added.
"If new technology comes to the market you've got to embrace it."
<script>
(function(i,s,o,g,r,a,m){i['GoogleAnalyticsObject']=r;i[r]=i[r]||function(){
(i[r].q=i[r].q||[]).push(arguments)},i[r].l=1*new Date();a=s.createElement(o),
m=s.getElementsByTagName(o)[0];a.async=1;a.src=g;m.parentNode.insertBefore(a,m)
})(window,document,'script','https://www.google-analytics.com/analytics.js','ga');
  ga('create', 'UA-63444260-2', 'auto');
ga('send', 'pageview');
</script>