Million-selling author David Almond praises Cramlington students
Tyneside author David Almond has returned to the school where, as an unknown writer 20 years ago, he promoted the book that launched his stellar career.
Skellig won multiple awards, has been published in 40 languages and turned into plays for stage and radio, a film and opera. More than a million copies of just the English language version have been sold.
However, he told students at Cramlington Learning Village, that success followed the failure of his first book which took five years to write but was rejected by publishers.
David read extracts from his latest novel The Colour of the Sun – which, like all of his stories is set in the North East – and provided insights into his inspiration, his approach to writing and his forthcoming work.
After more than an hour of signing copies of his books, for both students and staff, David said: "It's a great school. The students are wonderful and there's a relaxed and positive feeling around the whole place."
He also had a firm message for those who believe young people are too pre-occupied with their phones and computer games to read.  "Come to places like Cramlington," he said. "They'll see that there's an amazing amount of reading going on. There's a really strong reading culture and the biggest growth area in publishing at the moment is children's books."
Cramlington Learning Village librarian Eileen Armstrong said: "It's a great testament to the school that one of today's most prominent and successful writers chose to come here and say such kind words.
"We work hard as a school to make reading engaging and fun so that students can go on to achieve more highly.  We see every day that so many of our young people are enthusiastic readers, passionate about books. Reading is an important part of their lives."
The students heard how from an early age David wanted to be a writer.  He was inspired by the stories and the gossip he heard, his local library and his Uncle Amos – who ran a printing shop in Felling and was a prolific, but unpublished, writer.
His books continue to be strongly influenced by his surroundings. "Of course I like the North East – I live in the North East and I come from this place," he said. "When I first started to get success, a few people assumed that I would move to London but I never really felt that desire.  I go to London a lot, but I'm very proud to still live in the North East and to draw on its forces.  It comes through me – it's what my work's about."
David believes Tyneside's cultural scene is in rude health. "I think we're very strong.  There's a lot of stuff going on.  It's a very creative place.  It's very noticeable when you come back to Newcastle that there really is a buzz around the city, which I find energising and inspiring," he said.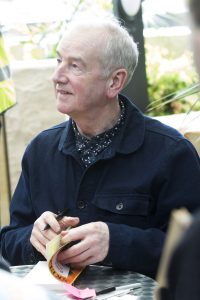 He is already writing another novel and in the Autumn, to coincide with the 100th anniversary of the end of The First World War, his graphic novel called War is Over will be published.
David has also written a picture book called The Dam which is about the famous Northumberland folk musician Kathryn Tickell and her father. It is set in Kielder Valley before it was flooded to create Kielder Water.  "It's an amazing story – I hope I've done it justice," he said.