Kitchen Therapy cooks make their debut at Riverside
Trainee cooks, who are taking part in an innovative course to improve their mental well-being, have passed their first public test with flying colours.
They prepared tasty pre-match snacks for partners of the Middlesbrough Football Club Foundation who gathered at the Riverside ahead of Boro's friendly against St Etienne.
The course – Kitchen Therapy – aims to help people develop their cooking skills, work as a team and regain their self-confidence.
Ray Mallon, Chair of Trustees at the Foundation, praised the partnership behind the project: the Foundation, Middlesbrough College – which is providing free use of one of its kitchens as well as the ingredients – and TV MasterChef quarter-finalist Matei Baran.
"Not that I'm not into cooking, but sometimes I'm made to watch MasterChef so I've seen him on the television," said Mr Mallon.  "He's a top-class chef who's going all the way."
At half-time Chef Matei and the trainees were introduced to the crowd at the Riverside and they also met Boro midfielder Adam Clayton.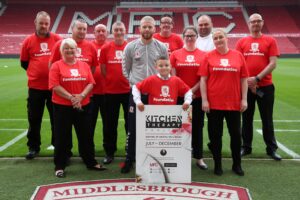 Following their Riverside debut, the cooks will spend a further four weeks at Middlesbrough College learning from Chef Matei. They will then take over the kitchens of two of Teesside's top restaurants where they will prepare a five-course tasting menu for paying guests.
It is hoped that Kitchen Therapy will help the cooks find jobs, but Alan Geddes – Events and Fundraising Coordinator for MFC Foundation – said: "More importantly, it's about them getting inspired and building their self-esteem to go out into the world a much more confident person."
"I couldn't have been more proud of them," said Mr Geddes.  "It was a lot to ask of them so early in their course, but they passed with flying colours."
Chef Matei, who reached the quarter finals of Master Chef: the Professionals in 2016, has spoken about his own battle with mental health and the positive impact of working in a professional kitchen.
"Many people see it as a stressful environment with that incredible pressure to cook when you're working against the clock.  But the kitchen is also a place where you can be creative, work as a team and be proud of what you have achieved," he said.
Forty-one-year-old Matei, who moved to the North East from Romania 10 years ago, has revealed that he tried to kill himself when he was 20 and – during bleak periods during his life – has found comfort and purpose through cooking.
Earlier this year he published a recipe book – Big Chef Mini Chef – which was inspired by his young son who suffers from the life-limiting disease cystic fibrosis
"In the kitchen I find myself in a place where I am confident, where my bad thoughts are taken away and where I am able to move forward," he said.
The Kitchen Therapy course is taking place at Middlesbrough College which is providing the ingredients and its facilities for free.
Molly Shaher, the college's Programme Leader of Catering and Hospitality, said: "We want to provide our catering facilities for all to access, to increase confidence, cooking skills and open doors to future qualifications or employment – so supporting the Kitchen Therapy Project seemed like the perfect fit."
The trainees are being supported by Step Forward Tees Valley – which helps local people overcome barriers to work and training – and the Foundation's own employability scheme.
Martin Jones – a Senior Employment Engagement Officer for Changing Lives which is part of the Step Forward Tees Valley programme – said: "Some of them have worked in the kitchen, some don't even cook at home and others totally avoid the kitchen, but that's due to their mental health issues, their anxiety and depression," he said.
"This is solving that.  For them it's a safe place for them to feel relaxed in a supportive environment. Because Matei's so relaxed and passionate about what he does, he encourages that in other people."
The cooks are now working towards 19th September, when they will be preparing a five-course tasting menu for guests at Al Forno's in Middlesbrough. Then on 17th October they take over the kitchen at Chadwicks Inn in Maltby and on 26th November they will present a special Christmas Feast at Middlesbrough College's Waterside Brasserie Restaurant.
For more details visit www.mfcfoundation.co.uk/event/kitchen-therapy-project-alforno-middlesbrough/
 Coverage:
https://www.gazettelive.co.uk/sport/football/football-news/adam-clayton-praises-inspirational-group-16675169
https://www.thenorthernecho.co.uk/news/17801994.middlesbrough-star-hand-help-relaunch-charity/