Helping young artists pursue their career dreams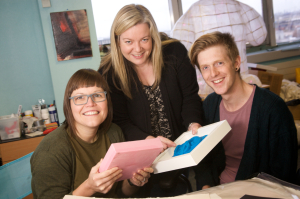 Young artists from across the North East are being invited to take part in a unique programme to help them make a career out of their talent.
Next Steps in Creative Experience (NICE) has the backing of Arts Council England, The Prince's Trust, MIMA (Middlesbrough Institute of Modern Art) and Stockton Borough Council.
It is recruiting eight visual artists between the ages of 19 and 25, who live between Berwick and York, for the six-month course. Application packs can be requested via nice@navigatornorth.com, the closing date is 1 May and interviews will be held on 13 May.
NICE is the brainchild of Navigator North, which was set up to assist artists, and provides both creative and practical support from its base in Dundas House – a disused office tower block in the centre of Middlesbrough.
(Coverage BBC Look North, Star Radio and
http://www.morpethherald.co.uk/what-s-on/leisure/a-nice-way-to-earn-a-living-1-7223686 
https://bdaily.co.uk/creative/23-04-2015/young-artists-offered-help-to-pursue-dream-career/)
For six months, as well as helping the young artists – or NICERS – to develop their creative skills, Navigator North directors Vicky Holbrough and Nicola Golightly will provide sessions on professional development – for example, how to pitch for commissions, manage budgets and market their work.
Vicky Holbrough said: "We're looking to select artists based on their talent and dedication, not just their qualifications. Young people can leave school, college or university with bags of talent but without the understanding of how to make a living as an artist. Our aim is to fill that gap."
They will also receive expert advice from The Prince's Trust. Emma Dixon, from the Trust, said: "The Prince's Trust is offering a four day Explore Enterprise course to help young people on the NICE programme explore business opportunities, test their ideas and become self-employed."
In addition the students will complete a Gold Arts Award – a Trinity College, London accredited qualification recognised by universities and employers – over the six months.
It is the second time the course has been run. Four of the six young people who took part in the first NICE project now earn a living as artists.
They include 26-year-old Rebekah Finnigan from Tyneside. She said: "NICE showed me different aspects of the industry that I hadn't known about before, such as all the people involved behind the scenes that it takes to run a gallery, museum or any of the education facilities that I came across through NICE. I would say that NICE is a great programme for those emerging artists out there who are ready and eager to break into the industry."
And Adam Bligh, also 26, from Ormesby in Middlesbrough. He said: "NICE has had a very positive impact on how I conduct myself at interviews. I feel more confident in talking about myself and my practice. During NICE I was given the opportunity to meet many creative individuals and organisations in the local area. This led to further opportunities, such as employment on a freelance basis."
The next group of participants will spend every Wednesday in Dundas House and be able to use studio space there the rest of the time.
"That's the beauty of being based here," said Nicola Golightly. "We've turned a building nobody wanted into a community for artists with more than enough room to provide really good studio space for everybody."
As well as their studio work the NICERS will work with professional artists at events including the Stockton International Riverside Festival and Darlington's Festival of Thrift, launched by designer Wayne Hemingway in 2013.
NICE is free although participants will have to pay a small weekly contribution of £15 for studio use. Artists who are not taking part in the programme will also be able to attend the professional development workshops.