Great North Feast planning second course in South Shields
Organisers have thanked the thousands of people who flocked to the first Great North Feast.
The festival was a celebration of the best food and drink produced in the North East as well as throughout the world.
It took place in South Shields' Bents Park over all three days of the Bank Holiday weekend and was such a success that a return visit next year is already being planned.
Visitors to the first Great North Feast could try and buy a range of home-grown products, such as piccalilli made by Calder's Kitchen from Sunderland, pease pudding by Pete's Puddin' from Newcastle and sausages provided by the North Shields-based Geordie Banger Company.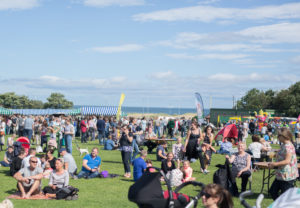 They could also tuck into street food inspired by producers' heritage or food passions.  On offer were dishes from all over the world, including On the Goa Indian street food, Divine Caribbean and South African Cuisine, Nepalese Mo Mo Dumplings and Mi Paella.
"Anybody living in South Shields is used to such an amazing range of restaurant food that we knew we had to go the extra mile to be a bit different," said Mark Deakin, who organised the Great North Feast with his wife Shelley.
"Bents Park has always been a fantastic location for our Proper Food and Drink Festivals and we were delighted to see so many people come to this bigger event."
The Great North Feast also reflected the upturn in the popularity of gin with a special Get Into the Spirit area – presented by Savour Magazine – featuring a number of local producers, including The Lakes Distillery, Hepple Gin and Durham Gin.
The Great North Feast was the final event of the summer run by the Deakins and their support team.  As well as the Great North Feast there have been six Proper Food and Drink Festivals and the North East Chilli Fest – a total of 20 days.
"It's been the busiest season we've had since we started putting on festivals in 2012 and, of course, you never know what to expect with a North East summer" said Shelley. "Whitley Bay in June was like the south of France, but just two weeks later the heavens really opened – just in time for the start of the Chilli Fest!"
Tired, but undaunted, the couple are already looking ahead to next summer and plan a few changes and possibly additional venues.
"We've got ideas for a few tweaks and we're always looking for new places to take the festivals," said Mark.  "This was the first time we've had Proper Food and Drink Festivals in Gateshead and Blyth.  They and the Great North Feast were great successes, so we intend to be back."