Fashion graduate with a design on home at The All-in-One-Company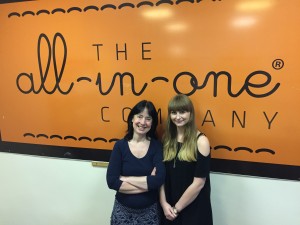 A talented young fashion designer has shunned the usual career path to stay in the North East where she finds both happiness and inspiration.
Twenty-three-year-old Northumbria University student Rachel Robinson has just started work at The All-in-One-Company in Ashington where her skills as a designer and illustrator are being put to good use.
"The timing could not have been better," said Kate Dawson, who started the bespoke onesie manufacturer eight years ago.
"Before us nobody had thought about onesies for adults, but it was such a good idea that everybody began making them until the market became saturated. However, we've remained market leader and to stay like that we've got to keep coming up with new ideas – and that's why it's such good news that Rachel's joined the team."
Rachel, who is from Hartlepool, completed her degree in Fashion Design and Marketing last year. Her final collection at Northumbria was called Nana's House and was inspired by objects – ranging from a biscuit tin to china dogs who sat on the mantelpiece – from her grandmother's home.
"There's too much throwaway fashion," said Rachel. "Clothing should be personal and evoke nice memories and happy thoughts. For me that's all to do with home and family."
Many of her fellow graduates have got jobs in London but Rachel was determined to remain in her native North East.
"London's an obvious attraction for anybody wanting a career in fashion," she said. "But, if you work for a big design company you're going to be right on the bottom rung.
"I wanted to stay in the region and I wanted to find a job that was challenging and rewarding and I've found that here."
Her views on fashion are also in tune with her new employer's approach. Its onesies are made to last and extremely personal as each one is designed online by The All-in-One-Company customers.
"I'll be thinking about cosiness and comfort, something to wear at home – but not necessarily – and, of course, a few surprises," said Rachel.
As well as designing new ranges of onesies she will be using her skills as an illustrator to develop the company's brand and marketing materials.
She is the second Northumbria University fashion graduate to join The All-in-One-Company after Rachel Lister, head of sales and marketing.
"It is so important that we retain talent in the North East," said Kate Dawson. "That's why we have worked with Northumberland College to develop successful programmes for apprentices.
"When we started seven years ago many of the skills we needed were dying out. We have helped revive them and created a company that is happily flying the flag for the North East."
Find out more about The All-in-One-Company at www.the-all-in-one-company.co.uk