Girls golf rock leading golf club
More than 20 girls have enjoyed a free taste of golf thanks to one of the area's leading golf clubs.
Tynemouth is one of only ten North East clubs participating in this year's Girls Golf Rocks, which is run by England Golf and the Golf Foundation.
Last year 1600 girls aged between five and 18 were involved in the event across England.  This year is set to be bigger and better.
"The whole idea is to encourage as many girls as possible to give golf a go," said Paul Whittaker, the manager of Tynemouth Golf Club. "It's a great sport and – judging by how the girls enjoyed themselves – let's hope this is just the start for them."
The 25 girls – aged between five and 13 – who attended the free session were given introductory coaching session on all aspects of the game.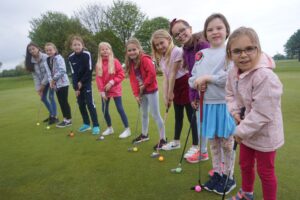 Five-year-old Scarlett's dad Geoff Smithson, from Whitley Bay, said: "This is a really good event for the local community.  It's lovely to see so many kids here.  At Scarlett's age I think it's important that she tries out all different types of sport."
Dave O'Hagan from Tynemouth, whose nine-year-old daughter Isla also took part, said: "She likes kick-boxing and dancing and has had a go on a climbing wall. Anything that encourages children to take part, particularly outdoors, is a great idea."
Tynemouth Golf Club's involvement in Girls Golf Rocks came three months after it became just the seventh of the 42 clubs in Northumberland and Tyneside to receive GolfMark, SafeGolf and Clubmark awards from England Golf, the amateur game's governing body.
"It was a very proud moment in the history of the club and we were particularly pleased to be described as a 'place where there are no barriers'.  That is, and remains, one of the driving forces here and why we were so keen to take part in events like Girls Golf Rocks," said Mr Whittaker.
As well England Golf's recognition of Tynemouth Golf Club's achievements, its own members have also had their say. In their yearly survey more than 95% said the club was meeting or exceeding their expectations, more than 60% are playing twice a week or more and 71% of members are using the clubhouse every week.