First tasty Bank Holiday treat for South Shields
This weekend South Shields will get the first of two tasty Bank Holiday treats as events celebrating the best locally produced food and drink visit the town.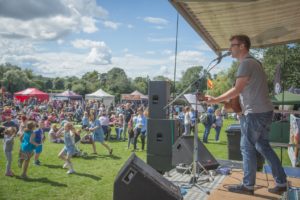 The ever-popular and free to enter Proper Food and Drink Festival is coming to Bents Park for all three days and the August Bank Holiday weekend will see the return of The Great North Feast.
Since 2012 The Proper Food and Drink Festivals have provided opportunities for local suppliers to sell their produce, whether that is gin or jam. A number of them have turned their passions into successful careers and even opened restaurants, cafes and shops.
The festivals provide a sensory treat, featuring live music and the mouth-watering smells of freshly cooked food – with influences from across the globe – to suit all tastes.
This year visitors will also notice an absence of plastic. Organiser Mark Deakin said: "There will be no single use straws and we're encouraging all our suppliers to do everything they can to use containers and packaging that can be re-cycled."
Taking the lead is the Tynemouth Coffee Company, which has been ever present at all the Proper Food and Drink Festivals. "Our cups, lids, straws are all compostable.  All of our packaging is cardboard.  We don't have anything that's plastic.  Our coffee bags are aluminium so they can be re-cycled as well," said Stuart Douglas, one of the company's partners. "It was quite expensive for us to do this, but we had to go with it because it was the ethical thing to do.  It's got to be the way forward."
The first of the six 2018 Proper Food and Drink Festivals took place in North Shields earlier this month. At each event visitors will have a chance to win a fantastic prize provided by the festivals' new partner, Smooth Radio. It is offering a weekend for two in London, staying at the five star Renaissance Hotel with dinner at Jamie Oliver's 15 restaurant. Travel is also included. Smooth Radio will be running other promotions and competitions in partnership with the Proper Food and Drink Festivals throughout the summer.
Festival organiser Mark Deakin said: "We're delighted to have them on board.  People who come to our events know that music is very much part of what we provide, so Smooth is the perfect partner for us."
Each Proper Food and Drink Festival showcases the produce of dozens of North East food producers, brewers, butchers, distillers, bakers and chefs.
"We used to make chilli sauce and we know how hard it is to be up all hours getting ready for a festival and then spending two or three days literally on your feet," said Mark Deakin, who runs the events with his wife Shelley.
He added: "It can be really tough and they certainly earn their money.  I'm sure this year they'll again get tremendous support from the tens of thousands of people who come along to Bents Park."
"Other festivals seem to come and go," said Shelley Deakin, "but we like to think we have become a bit of a diary date for lots of people in the North East."
Proper Food and Drink Festivals:
26, 27, 28 May – Bents Park, South Shields.
16, 17 June – Whitley Bay, Spanish City Plaza.
28, 29 July – Cramlington, Seven Oaks Park.
4, 5 August – Gateshead, Saltwell Park.
11, 12 August – Blyth, Ridley Park.
All festivals are open from 10am-5pm. Apart from Gateshead – where there is a small admission fee of £2 – entrance is free.
The Great North Feast:
25, 26, 27 August – South Shields, Bents Park.