Northern star rising – Durham architect in line for national award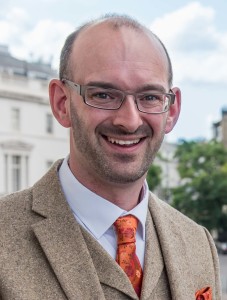 A Durham architect and campaigner is in the running for a prestigious national award which recognises outstanding innovation in the building industry.
Mark Siddall, of LEAP (Lovingly Engineered Architectural Practice), has been nominated as one of six potential winners of the UK Green Building Council's Rising Star Award.
He is the only architect on the shortlist which includes a property lawyer, a property manager, an economist, a building performance evaluator and an ecologist.
The result will be announced on Wednesday(9 March) at London's ExCel during Ecobuild, the world's biggest event for sustainable design, construction and the built environment.
The Rising Star Award does not just celebrate outstanding innovation in the building industry, it also recognises the winner's role as a catalyst for change in relation to sustainability and environmental performance.
A member of the judging panel, Ben Farnell – a property lawyer with Baker and McKenzie – said: "This year's awards have been the best ever in terms of breadth of entries from right across the industry, of all ages and expertise."
The work of the nominees gave "a fascinating picture of how some of the best minds in sustainability think we need to take the agenda forward."
Scientific analysis by Leeds Beckett University has proven houses designed by Mark perform as predicted, while studies by the innovation agency Innovate UK, reveal almost all buildings fail to deliver what they were designed to. In fact, they use two, three or even five times the amount of energy foreseen at design stage.
"In reality this means energy bills, carbon emissions and, in many cases the health and well-being of housing occupants, are being compromised," said Mark.
"The driving force behind my work is to change the whole design and construction process and improve building performance."
"It is a great honour and I'm particularly proud because somebody has to nominate you for this award," said 42-year-old Mark, whose work has already received considerable recognition.
Last year his design for Steel Farm, near Hexham, was named Best Small Project in the UK Passivhaus Awards and in September it was nominated in the Best Value Home, Best Eco Home, and Best Masonry Home categories of the national Build It Awards. Open days at Steel Farm have attracted hundreds of visitors.
He would become just the fourth winner of the Rising Star Award.  It was created by the UK Green Building Council and PRP architects in memory of Mel Starrs, a prominent built environment practitioner and associate director at PRP, who died suddenly in 2012 at the age of 39.
"Whether they are clients, contractors, tradesmen or design team members, the single greatest challenge is finding people with the right skills and motivation to develop buildings that are capable of closing performance gaps. I believe this is the biggest challenge to achieving enduring sustainable outcomes," said Mark.
He added: "If the government is to get serious about transforming construction, improving quality and addressing environmental concerns for real, then it needs to begin investing in the re-education of the entire construction industry. It can be done."
As well as the evidence of his low-energy homes, Mark's campaign for change has seen him speak at international conferences, write academic papers and contributions for magazines and books, presented his work at universities and developed programmes at Northumbria University for architectural technologists and project managers.  He has also produced a number of videos demonstrating his approach and results.
"Over the next five years I want to measurably reach construction professionals from around the globe and influence the work that they are undertaking – even if it is just a little bit," he said. "That's why my own research is freely available at BuildingPerformanceEvaluation.co.uk."