Donations from onesie company as more people turn to Baby Banks
Hundreds of luxury handmade onesies have been donated to Baby Banks and Women's Refuges throughout the UK to keep children warm this winter.
They have been provided by The All-in-One Company, based in Ashington in Northumberland, which has also sent dozens of cute onesie-wearing teddy bears for parents who might be struggling to afford Christmas presents for their sons and daughters.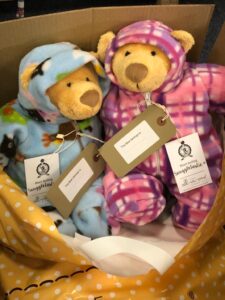 Since starting in 2008 The All-in-One Company has given away all its spare material to schools and craft groups.  Now – with the steep rise in the number of people relying on Baby Banks – it is instead using the offcuts to make onesies for babies, children, teenagers and women.
There are now around 150 Baby Banks in the UK and it is estimated that this year 35,000 families turned to them because they could not afford to buy essential items such as bottles, clothes, cots, nappies, wipes, prams and pushchairs.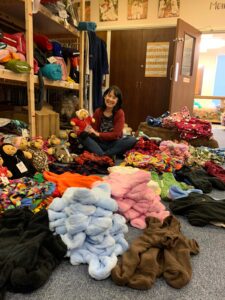 The All-in-One Company founder Kate Dawson, who has urged other businesses to help, said she been shocked by the number of people who have to use Baby Banks. "There is not just a need in regions like the North East, where we are based, where the level of deprivation in some areas has been well-documented. There is a growing problem of poverty across the country."
The All-in-One Company's donations have been sent to Baby Banks and Women's Refuges in London, Surrey, the West Country, County Durham and Teesside.
Stacey Brayshaw, who runs Gloucestershire Bundles in Gloucester, said her Baby Bank was set up to help expectant mothers who had nothing. Seven years later they support people up to the age of 16. All of their referrals come from professionals: midwives, social workers and – increasingly – secondary schools. Since April they have had more than 450 referrals – twice as many as last year.
"We've just had a referral in for a lady who was in the same job for 16 years and has lost her job.  She's got no money for Christmas presents and her son's outgrown all his clothes. It's no fault of her own," said Stacey whose team of 13 volunteers are about to move to a bigger building because of the increase in demand.
"Businesses like The All-in-One Company are taking the time and seeing the need and I think it's amazing.  They've realised there's lots of us out there," she said.
Nicola Dawes runs the Stripey Stork Baby Bank in Reigate.  She said: "Stripey Stork has seen an increase in the demand for our service in 2019 and we have responded to over 2500 requests for help. We continue to be commended for the range and quality of items we can source for families in need, and one reason for that is the kindness of partners like The All-In-One Company who support our work."
She added: "These new, luxurious items are practical but also a real treat, and we love including them in our referral packs."
The All-in-One Company said it is determined to do all it can to help and is appealing to Baby Banks and Women's Refuges to get in touch on 01670 522478.