Cramlington company supports Big Chef Little Chef book
A Cramlington food wholesaler is supporting one of the region's best known chefs who is writing a children's cook book to raise awareness of a life limiting illness.
The book – Big Chef Little Chef – will celebrate the bond between TV Master Chef quarter finalist Matei Baran and his six-year-old son Armin, who has cystic fibrosis.
Delifresh, which employs more than 50 people at its depot on the Nelson Park Industrial Estate, is providing ingredients and the use of its professional kitchen for Matei, Armin and a team of little chefs to practise their recipes.
"It's all about cooking for kids with kids," said Matei. "A healthy diet is incredibly important for all children, but particularly for kids like Armin."
As well as eating well, Armin has to take dozens of tablets each day.  He has regular physiotherapy and takes part in a number of physical activities to help him keep well.
"If you look at him you would never know. They don't look ill, but believe me the struggle is inside.  All the pain is inside the body," said his mother Luminita Hatneanu. "It's important the way you live, not how many years you live."
Robert Ramsden of Delifresh said: "We are incredibly privileged to be able to help with such a fantastic cause. Matei has supported Delifresh for many years and by working closely together we hope to raise a sense of realism and awareness around such a meaningful and inspiring project."
As well as Cramlington, the company has two other depots in the North supplying restaurants, hotels, colleges and schools.
"Delifresh has been such a help. The support means this dream I had will become a reality," said Matei, who is the executive head chef of the Salt Cove restaurant in Tynemouth and has been the head chef at Newcastle's Jurys Inn and executive head chef at the Bannatyne Hotel, Darlington and Northumberland Arms in Felton.
In 2016 he qualified for the televised rounds of Master Chef: the Professionals but broke his hand playing football in a charity event the day before his first appearance.  Nevertheless he still reached the quarter finals.
"I've been thinking about this book for a while and when I saw a photograph of Armin and me walking side by side, the idea of calling it Big Chef, Little Chef came to me," he said.  The photograph was the inspiration for the image which will feature on the book's front cover and on the little chefs' aprons.
"Every dad is proud of his children and Armin is so brave and happy that I wanted us to do something really special together.  Eating healthy food is so important – and not just for children with cystic fibrosis.  Learning about ingredients and cooking when you are very young means you have a lifetime of understanding and enjoyment of good food ahead of you."
Proceeds from the book will go to the Cystic Fibrosis Trust.  Its community fund-raiser in the North Gemma Williamson said generating support for the charity can be a challenge because of the hidden nature of the illness.
"As well as raising money it will also help to get people to understand," she said.  "I think it's fantastic and really inspiring. The parents of children with cystic fibrosis will really love the idea, especially all the different recipes."
Matei returns to Cramlington on 16 January when he will be providing a cooking demonstration for students who are studying GCSE Food Preparation and Nutrition.
Ten days later the publication of Big Chef Little Chef will be launched at an event at Seven Stories – The National Centre for Children's Books – in Newcastle.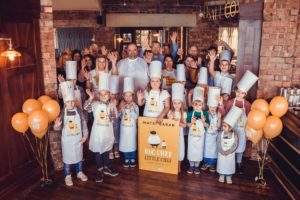 As well as Delifresh, the project is being supported by another food wholesaler: Gateshead-based Bidfood.