Cooking for Kicks with a Master Chef
Two young people have had a day they will never forget thanks to the twin powers of football and cooking.
The pair – who are taking part in the Premier League Kicks programme in conjunction with Barnardo's UK – were treated to a cooking masterclass by one of the region's top chefs and TV MasterChef quarter-finalist Matei Baran.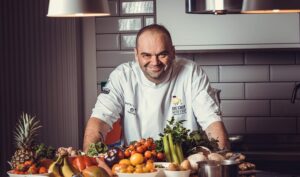 Premier League Kicks Youth Worker Keith Robson said: "We are delighted to collaborate with Matei on this project and offer two of our young participants an experience that will live long in the memory. We are looking forward to working with him again on a number of exciting projects in the future."
Kicks is the Premier League's flagship community project which delivers sport and education sessions in hundreds of local communities where projects are most needed.
It has been running for 13 years and, by 2022, hopes to have involved 175,000 young people in sessions throughout England and Wales. "It was a honour to be asked to help," said Matei. "Football and cooking are both powerful ways to engage with young people."
Last year, in partnership with the Middlesbrough Football Club Foundation, Chef Matei launched Kitchen Therapy: a programme to help groups of people overcome problems with their self-esteem by cooking together.
The first Kitchen Therapy project was so successful that Matei is now running a second one in East Cleveland.