Newcastle business Concept teams up with one of city's oldest charities
A Newcastle business has teamed up with one of the city's oldest charities to help children and families in need.
Concept, a wholly-owned subsidiary of Xerox, has chosen Children North East to be the beneficiary of this year's football fund-raising.
Since 2014 prominent businesses in the region have taken part in the Concept Cup – a five-a-side tournament – and raised thousands of pounds through entry fees, raffles, auctions and collections for The Calvert Trust, Little Steps for Lily, Hadrian School and the North East Autism Society.
"It's always a difficult choice because there are so many good causes who we would love to help," said sales manager Stewart Hunter of Concept, which is based at Newcastle Business Park.  "But when we met Children North East we were so impressed by the work they do and also shocked at the level of demand for their services in 2018."
The charity began in 1891 as the Poor Children's Holiday Association, providing a "hand up, not a hand-out" to poor children living in Newcastle and Gateshead. Now, every year, Children North East's 60 staff and more than 200 volunteers help thousands of children and young people through all stages of their lives.
That support starts even before a baby is born, for example, with its Bump Buddies scheme for vulnerable mothers-to-be.  Through a programme called WHOOPS! the charity trains hundreds of parents each year to improve safety at home and prevent childhood accidents and deaths.  Amongst a comprehensive range of other services Children North East also provides a one stop shop for young people at its West End Youth Enquiry Service, where it offers information, friendship and sexual health advice.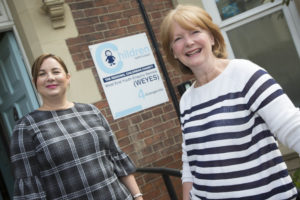 "We can never predict where our help is going to be needed," said Children North East senior fundraiser Carol Taylor. "For example, a mother escaping domestic violence might turn up with her children and they need urgent feeding and clothing.  The money raised by Concept is going to make such a difference throughout our services."
She added: "We are so grateful that they have chosen us.  I'm sure the two men who started this charity never thought we would still be needed all these years later – but our services are still very much in demand throughout the North East."
This year's Concept Cup takes place at Goals Gosforth on Friday 14 September.  Concept is hoping for a record number of entries in support of such a worthwhile cause. Last year Northumbrian Water beat two-time champions Utilitywise in the final of the competition which attracted 20 teams.
"It's got bigger and bigger and although teams are desperate to win, they know the real reason why we're doing it," said Lisa Derrick of Concept, who is organising the event.
For more information e-mail stewart.hunter@concept-group.co.uk or the event organiser lisa.derrick@concept-group.co.uk or visit www.concept-group.co.uk