Chilli Fest organiser looks forward to return to Blyth
The organiser of the North East Chilli Fest, which attracted thousands of visitors over the weekend, said he is looking forward to bringing it back to Blyth next year.
The Chilli Fest took place for the first time at Meggies Burn Fields at South Beach, and Mark Deakin – who, with his wife Shelley, started the event in 2012 – believes it has a new home.
"The location was ideal and Northumberland County Council, which owns the land, couldn't have been more helpful," he said.  The first five Chilli Fests were held at Seaton Delaval Hall.  Last year it moved to a bigger site – on farmland near Meggies Burn Fields – but for 2018 it was decided to move again and also introduce a new theme for the weekend: The Festival by the Sea.
"The fantastic weather certainly helped," said Mark, "and everybody had a great time.  It would have been nice to be able to show England winning the World Cup, but you can't have everything."
The Chilli Fest, as ever, was a mixture of food, drink, music and comedy.  The event is now firmly on the list of the UK's outdoor summer events and this year again attracted visitors and producers from all over the country.
Sheffield-based Chilli Pepper Pete, run by Paul Murrell and helped by his brother Martin, brought its sauces, honeys, salamis, rubs and raw chillis.
The company, making its second visit to the festival, was started by Pete Seymour 20 years ago.  He died in 2012 and Paul, who use to have his own engineering company, bought the business but kept the name as a tribute to its founder.


"We do festivals all Germany, Holland and Belgium.  Everybody's taste is completely different," said Martin who, during the week, works as an accountant in Norwich.
"Luckily we've made friends with the ice cream man and pointed our customers in his direction if they found our chilli too hot."
Tim Whiteley, from Oldham, is a veteran of five North East Chilli Fests.  "I'm a chef and I owned a wine bar and I didn't like anything anybody was selling," he said.  His solution was to launch Retro Shots, which now offers 20 vodkas and gins flavoured with tastes from favourite childhood sweets: rhubarb and custard, refresher – and the latest – violet infused gin.
Tim sells his drinks through his website and at festivals throughout the country.  "I come to the North East a lot.  I have many regular customers here and it's always good to see them again," he said.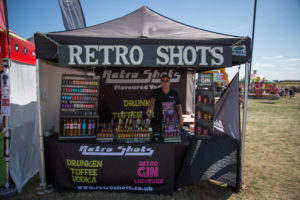 Some of the producers will be back for the other events, organised by Deakins, which are taking place later this summer.
The Proper Food and Drink Festival visits Cramlington's Seven Oaks Park for the third time on 28 and 29 July, before it moves to Blyth's Ridley Park on 11 and 12 August.  Admission is free to both events.
The August Bank Holiday weekend see the return of The Great North Feast to Bents Park in South Shields.