Budding businesses given chance to showcase their products
Three budding businesses have been given the chance by Middlesbrough's Dundas Market to showcase their products as part of a world-wide celebration of local markets.
One of the aims of the Love Your Local Market (LYLM) campaign – which was launched in the UK in 2012, is now held in 24 countries and this year takes place between 17 and 31 May – is to provide people with the opportunity to test their ideas face-to-face with customers.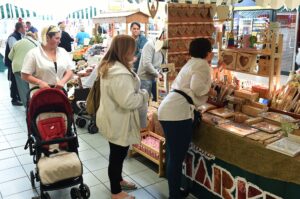 Organisers estimate that globally 11,000 people have taken up this challenge and around 1,000 of them received sufficient encouragement to turn their hobby or passion into a full-time business.
That might be the outcome for the three local businesses who have been selected for a rent free week – from 20 to 25 May – at Dundas, Middlesbrough's only indoor market, which has supported LYLM for the last three years.
For her business The Den, Emma Fox creates furniture from items she finds at car boot sales and charity shops.  She also makes plant pots and candle holders by moulding pieces of material which have been soaked in cement.
"Nothing gets thrown away," said the 38-year-old part-time shop worker who lives in Middlesbrough.  "I've always been really creative.  It's always been art, and the retail and admin work I've done has made the money to fund my hobby.
"Somebody said to me why don't you try to do this full-time and be your own boss. I'll have more of an idea after my week at Dundas."
Although Toni Hoare has no immediate plans to rely on her business – Handicraft Gifts – to make a living, a successful week of trading might change her plans.
"It would give me a good taster on how I would fair in a shopping area and an idea of what I could make on a weekly basis so I could then re-evaluate," said Toni who is 31 and lives in Darlington. "It's too good an opportunity to miss out on."
Toni makes cards, jewellery, book folds, book marks and photo frames.  "It's a long, long, part-time hobby. I've been doing it since I was 15.  One day I would like it to be a full time business," she said.
At car boot sales and via her social media, 27-seven-year-old Lucy Barrell from Eston sells candles, bath bombs, wax melts and room sprays for her business Lucy's Scentsations.
"I'm looking to do it full time," said the former care worker.  "It's really something I would be interested in if it goes well."
Lucy, Emma and Toni's week in the LYLM zone culminates with May's monthly Dundas Food and Craft Market, where they and the permanent traders will be joined by a further 15 local food producers and crafts people. It takes place on Friday and Saturday, 24 and 25 May.
To celebrate LYLM the Dundas Market is also running a series of competitions throughout the week.  Lucky customers can win up to £100 of vouchers just by saying what type of business they would like to see full-time in the market. Children who take part in activity sheet challenges are also in with a chance of winning one of a selection of prizes.
In addition, on 28 May the Live Well Centre – in the neighbouring Dundas Centre – is hosting a Superhero Spectacular on behalf of TFM's Cash for Kids appeal.  There will be a TFM DJ, Go Carts, a bouncy castle for the under 5s, slime making and cakes for sale.
"It's going to be a fantastic few days," said David Harris, Dundas Market's manager.  "There's going to be a lot of fun alongside the serious business of Lucy, Emma and Toni hoping that their products sell.
"We are strong supporters of Love Your Local Market which really helps to underline the benefits of markets for both traders and customers. At any time markets provide an ideal opportunity to see if your business has what it takes."
As well as supporting the trio of budding business as part of the LYLM campaign, Dundas Market also operates a year round Enterprise Scheme for start-up businesses to rent one of a small number units on a short term tenancy agreement, costing from just £60 per week.
"We provide a safe, low-cost and supportive community trading environment which helps minimise the risks of establishing a new business, so that start-ups can fully concentrate on selling distinctive products and services, and providing excellent customer service," said the market's manager David Harris.
LYLM events can be followed via #LYLM2019 and anybody wanting more information about trading at Dundas Market should contact David Harris at david.harris@dundasindoormarket.co.uk
Coverage:
Showcase for Budding Tees Valley businesses during international market campaign