Big Chef loses six stones and transforms into 10k runner
Four months ago TV MasterChef Matei Baran was out of breath bending down to tie his shoelaces.
Today – and more than six stones lighter – he is the proud owner of a medal presented to him for completing a 10k race in just one hour and 20 minutes.
Romanian-born Matei, 41, weighed more than 28 stones when he reached the quarter final of MasterChef: The Professionals in 2016 and he revelled in the nickname of Big Chef.
But earlier this year, after writing a book promoting healthy eating, he decided to transform his life.
The book, called Big Chef Mini Chef, was dedicated to his seven-year-old son Armin who suffers from the life-limiting disease Cystic Fibrosis. It featured recipes suitable for children with the illness and raised money for the Cystic Fibrosis Trust.
"Armin is my life. I looked in the mirror and thought I'm not going to be around to see him grow up unless I do something about myself," said Matei, who suffers from Type 2 diabetes.
"Over the years I've also had issues with my mental health, and mental and physical health are obviously linked.  You're not going to feel great about yourself when you're nearly 30 stones," said Matei who for years drank a large number of sugary drinks during each day's work in a kitchen.
"My cooking is all about using fresh ingredients to prepare healthy meals, but I wasn't a good advert."
His transformation – which has seen him lose around a quarter of his body weight in 16 weeks – has been supported by Marysia Szmagara, who lives in Dublin. She responded to one of Matei's Instagram posts and became his long-distance coach.
"Marysia's a mechanical engineer and mother of three children, who has become a very keen runner. She also has very good ideas about how to lose weight sensibly – through exercise and cutting out the bad things you eat and drink – without having to spend a fortune," said Matei.
The pair met for the first time when Marysia flew to Newcastle to run alongside Matei in Sunday's 10k MoRun in Exhibition Park in support of The Movember Foundation, which raises funds and awareness for prostate cancer, testicular cancer, men's mental health and suicide prevention.
"I wanted to support the charity, but never thought I would be able to do it by running – and I ran 70% of the way. I just hope my story will somehow inspire others," said Matei, who completed a gym session the morning after the run and plans to maintain his fitness regime. His diabetes is under control and his doctor is delighted with his progress.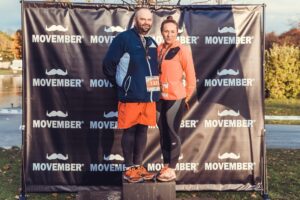 Matei also continues to share his expertise on healthy cooking.  Last month he was invited to run a masterclass for students in Newcastle to show them how to eat well on a tight budget, and he has plans to work with people living in one of the most deprived areas of the North East.