Big Chef to become Iron Chef after Kitchen Therapy success
The success of a cooking course to promote mental well-being and self-confidence has inspired both the people who took part and the man behind it – television MasterChef quarter finalist Chef Matei Baran.
Over 12 weeks Matei – who lives in Wallsend and is known as the Big Chef – taught the trainees how to cook and work together and found the motivation to tackle his own weight problem, while one of the novice chefs said Kitchen Therapy had changed his life.
"I was isolating myself from everybody, I wouldn't go out, I wouldn't go anywhere," said 62-year-old John Elliott from Hartlepool. "Since being on this course I've met some lovely people – lovely friends – and I don't know where I would have been without it.  I might have still been at home or in a hospital.
"Kitchen Therapy has given me a lot of help and support. Chef Matei has been brilliant. He's helped me all the way."
At the launch of the project Chef Matei revealed how his struggles with his own mental health had led to a suicide attempt when he was 20 and that working in a kitchen had been his salvation.
The 41-year-old, who weighed more than 28 stones when he appeared on MasterChef: The Professionals in 2016, is now determined to address his physical health.
Since the start of Kitchen Therapy he has lost four stones through exercise and cutting down on sugary drinks.  His Type 2 diabetes is under control, his blood pressure is normal, he feels the healthiest he has been in years and is determined to rid himself of the Big Chef label.
"Mental and physical health are obviously intertwined.  You're not going to feel great about yourself when you're nearly 30 stones," said Matei.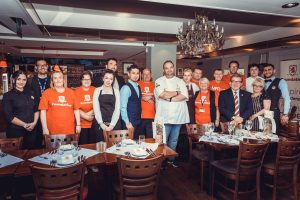 He has had positive talks with the Newcastle United Foundation and Sunderland's Foundation of Light about running Kitchen Therapy courses and has just announced details of a challenge to raise money for them as well as Middlesbrough's foundation.
On 4 December he will walk nearly 50 miles from Middlesbrough's Riverside Stadium, via the Stadium of Light, to St James' Park.
"For me this is all about becoming the Iron Chef," he said. "But more importantly I want to show other people with weight problems that anything is possible.  It's all about breaking down barriers – to health and even football rivalry.
"A few months ago I couldn't have walked 50 yards, never mind 50 miles.  I know it's going to be tough but I will take my inspiration from John and the other people who took part in Kitchen Therapy.  They were brave enough to do something they never thought they would do. Now it's my turn."
The initial Kitchen Therapy project is culminating with evenings at two of Teesside's top restaurants.
The first took place at the Al Forno restaurant in Middlesbrough where Matei's team of chefs prepared a five-course tasting menu for 50 paying guests to raise money and increase awareness of the battle many people have with their mental health.
Proceeds from the evening will support the MFC Foundation, which was Matei's partner – alongside Middlesbrough College – for the first Kitchen Therapy course.
Alan Geddes, MFC Foundation's events and fund-raising co-ordinator, said the people who took part were "superstars and heroes".
He added: "The first time we met, everybody sat in their own corners in their own world and didn't speak to each other. The change has been unbelievable
"Kitchen Therapy is a fantastic, fantastic idea which has instilled and inspired hope and confidence in everybody who took part."
More information about Matei's Iron Chef Challenge will be published soon.  In the meantime the first Kitchen Therapy trainees will come together again on 17 October to prepare food for guests at Chadwicks restaurant.