Arts achievements of young people recognised at conference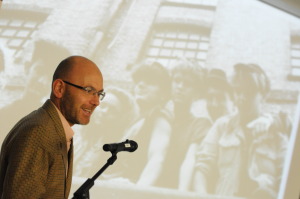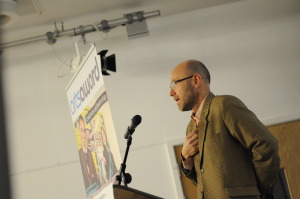 Young people who might find it difficult to gain traditional qualifications are achieving awards recognised by colleges, universities and employers. Since it was launched by Arts Council England in 2005 more than 4000 North East children and young people up to the age of 25 have been awarded an Arts Award.
It has five levels (Discover, Explore, Bronze, Silver and Gold) and participants can choose any art form – fashion to film-making, pottery to poetry – to develop their skills in creativity and leadership.
Yesterday (Friday) the Arts Award achievements of the region's young people were celebrated at a conference at Newcastle's City Library, addressed by designer and Arts Award ambassador Wayne Hemingway.
(Coverage in The Journal, Chronicle and Chronicle online)
The audience – made up of some of the region's 1700 artists, designers, teachers, library and museum staff who have qualified as Arts Award advisers – were told the story of pupils at Priory Woods School and Arts College, an all age community special school in Middlesbrough.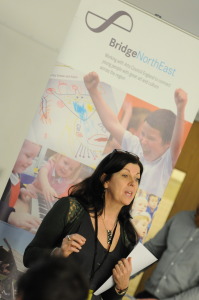 Its Creative Arts Director Linda McGrath said: "Arts Award is not like an exam and it's an integral part of what  
they're  already doing. It sits nicely with their arts activities in school. "It recognises their work and the hours they're putting in. Some of our students are maybe not going to get a GCSE or something like that, but they're getting a recognised accreditation."
As part of their Arts Award – alongside their training – young people who attend Circus Central in Newcastle researched, created and performed stories inspired by the archive left by Arthur J Fenwick. Born in 1878, a director of his family's famous department store, he had a fascination for the Big Top and show people and left behind a vast collection of scrapbooks.
On Teesside arts graduates were given support to bridge the gap between university and career.   "The Gold Award is all about developing your talent – whether you're a painter, dancer or writer. But it's also about the other things that go with being an artist: setting budgets, knowing where to go to apply to funding, preparing an invoice, even writing a CV," said Nicola Parkin, Arts Award adviser and director of Navigator North.
Sue Sedgwick, Education Officer at the Dorman Museum in Middlesbrough, said: "Arts is a leveller, whatever your background. Some kids aren't confident in their literature, some kids aren't confident with maths but most are confident with art."
Wayne Hemingway was brought up by his mum and grandmother in a tower block in Blackburn and at an early age had an interest in fashion and music. "But the words art, design, creativity were never used. Creativity – what did that mean?" he said.
Wayne and his wife Gerardine began selling clothes in London markets before establishing their fashion label Red or Dead. They then created Hemingway Design where their team designs everything from sofas to houses.
"One of the many good things about Arts Award is that it is supported by people from different disciplines who share the belief that an engagement with the arts can be hugely beneficial for young people," he said.
"Arts Award is great because it inspires people to use their creativity, and follow artistic options that they might never have considered. It also increases people's awareness of their potential and inspires them to enjoy, and engage with, culture and the arts."
Jeanne Hale, of Bridge North East which organised the conference and supports Arts Award in the region, said: "Wayne and Gerardine's incredible story shows what can be achieved through creative ability, motivation and hard work. The stories of the young people are also inspiring and demonstrate the value of the Arts Award as a framework to help them enjoy, learn and achieve.
"Although it is an extremely rewarding role, Arts Award advisers have to work really hard and this was our opportunity to thank them, share best practice and – with the help of Wayne – inspire them to continue their fantastic job of supporting our young people."