Big Chef overcomes legal battle to publish book
Big Chef Matei Baran has overcome a legal battle with the owner of a defunct motorway restaurant chain to publish a book in honour of his son.
Six-year-old Armin suffers from the life-limiting disease cystic fibrosis and to stay well he has to swallow dozens of tablets every day, take regular exercise and eat a healthy diet.
He has ambitions to be a chef, like his dad who reached the quarter final of TV's Master Chef: The Professionals in 2015.
Inspired by Armin, Matei decided to write a cook book – called Big Chef Little Chef – to both encourage children to learn how to cook healthy meals and raise money for the Cystic Fibrosis Trust. Fifteen children, including pupils from a special needs academy, helped create the recipes.
Using a logo based on a picture of him and his son, Chef Matei applied to register Big Chef Little Chef as a trademark but to his shock received a letter from a London firm of solicitors, representing the Kuwaiti-based owner of the Little Chef brand, ordering him to withdraw the application and threatening legal action if he did not stop using Big Chef Little Chef.
Matei wrote back to explain that proceeds from the book were going to charity but, with the book about to be printed, the solicitors would not budge – even though all the Little Chef restaurants have shut – and repeated their intention to pursue him through court.
"I just couldn't understand why they behaved like this," said 41-year-old Matei.  "I didn't have time or the money to fight this – even though I have done nothing wrong."
He decided to change the book's title to Big Chef Mini Chef and after a last minute re-design and print it has now been published and launched at a special event at Seven Stories – The National Centre for Children's Books in Newcastle.
There the children involved were presented with copies signed by Matei, who 10 years ago moved to the North East from his native Romania and is currently the executive head chef at The Salt Cove restaurant in Tynemouth.
"I'm a very emotional person and to be able to share the book with the children was always going to greatly affect me," he said.
"The problem with Little Chef has made it far more stressful than was necessary, but the main thing is that the book is now here and it's going to help all the Mini Chefs like Armin and his little friends and raise money for such an important charity."
The Cystic Fibrosis Trust's community fund-raiser in the North Gemma Williamson said that generating support for the charity can be a challenge because of the hidden nature of the illness.
"As well as raising money it will also help to get people to understand," she said.  "I think it's fantastic and really inspiring. The parents of children with cystic fibrosis will really love the idea, especially all the different recipes."
Eight pupils from Hope Wood Academy in Easington Colliery are featured in the book. The school is attended by more than 200 children – aged from two to 19 – who have a diverse range of special educational needs.
Deputy head teacher Vickie Gorton said learning to cook is extremely important for the children to both build their independence and develop their life skills.
"We're always encouraging the pupils to try new things and that includes different types of food," said Mrs Gorton.
"It was fantastic having Matei here and the children really enjoyed helping him.  We are so proud that they and Hope Wood have been chosen to take part in Big Chef Mini Chef."
Big Chef Mini Chef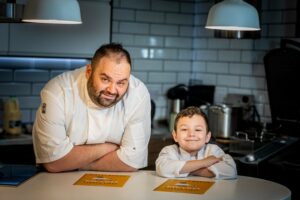 is available now through Matei's website www.mateibaran.com
Coverage
https://www.newsguardian.co.uk/news/tynemouth-chef-launches-new-children-s-cook-book-1-9567584
www.bqlive.co.uk/food-drink/2019/02/01/news/tynemouths-big-chef-matei-baran-has-overcome-a-legal-battle-with-the-owner-of-a-defunct-motorway-restaurant-chain-34923/
https://www.express.co.uk/news/uk/1087885/Cystic-fibrosis-Health-news-nhs-drug