National recognition for Calmer Therapy's support of 1000 families
A support group in Northumberland – which is helping more than a thousand families with children who have additional needs – is attracting significant national recognition as it celebrates its third birthday.
Calmer Therapy was founded by Donna Swan who decided the best way to help her young son – who had been diagnosed with autism and a range of behavioural difficulties – was to learn as much as she could about his condition, treatment and care.
In the process she became a highly qualified care worker and was employed in behavioural units where she encountered parents who were desperate to get their children home.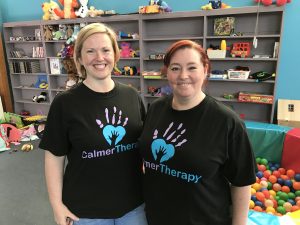 "They weren't living at home, they weren't going to school, and some children could be there until they're adults and go into the adult services," said Donna, who lives in Bedlington and now has two children, both affected by autism and with additional needs.
"The reality hit me: how desperate these parents are…crying and doing anything to get their children home."
The problem, she says, is that whilst there is support for children with autism there is a gap in provision for many – like hers – who are also affected by conditions such as Attention Deficit Hyperactivity Disorder (ADHD), Tourette's, Obsessive Compulsive Disorder (OCD), learning disabilities and anxiety.
To attempt to fill this gap, Donna started Calmer Therapy three years ago.  It has its base in Guidepost and branches in Hexham and Berwick, with plans to extend into Cumbria and Yorkshire.  Its 50 volunteers now help more than a 1000 families.
It provides practical support, advice and training and has even started its own version of the scouts – Calmer Explorers and Calmer Adventurers – to provide outdoor learning and experiences for children of all ages.
In 2017 Donna received the Outstanding Community Award at the AKO Autism Hero Awards in London and this week she has been nominated for the Entrepreneur of Excellence (Disability) Award at the prestigious National Diversity Awards. Calmer Therapy has also been nominated for the Community Organisation (Disability) Award.
Despite its success, in May Calmer Therapy suffered a major setback when vandals destroyed a camp which was being used by the Calmer Explorers and Adventurers. Donna said they had found the perfect site – a patch of wooded land which they were renting from the North Seaton Colliery Community Centre.
Calmer Therapy volunteer Maddie Wilson from Bedlington, whose nine-year-old son has Tourette's and additional needs, said outdoor learning had been highly beneficial. "Being outdoors was like being unplugged," she said.  "It was a safe way to explore his anxieties – like getting dirty or playing with sticks – and gave him and the others the same opportunities as children of his age who join the scouts."
But as they arrived one morning at the camp, the children and their parents discovered everything they had made – a bug hotel, water table and dens – had been destroyed and, because of the children's problems with anxiety, it is impossible to go back.
Donna and her team of volunteers are now looking for a new site and hope to move in soon. Despite the incident, they remain as determined as ever to bring much needed support to families.
"What I found in Calmer Therapy was acceptance and inclusion," said Maddie. "And actually it's alright not to know what to do, because there's somebody who will know.  When you have a child in mainstream school nobody else has these problems, so the teachers can't tell you where to go – they can give you a vague idea – but there's a six month waiting list before you can speak to somebody."
One of the children Calmer Therapy is currently supporting was at the Ariane Grande concert in Manchester when the bomber struck. "She needs our help because she has anxiety issues.  We might only have her for a couple of months, but where would she have gone? How long would she have waited to see somebody?" said Donna.
When she was presented with the the AKO Autism Hero Award last year, Donna was described as "an amazing woman and a massive lifeline to families in Northumberland."
She will discover if Calmer Therapy receives further national recognition of its work when the National Diversity Awards is held in Liverpool in September.
In the meantime Calmer Therapy is holding a Summer Fair to celebrate its third birthday on Saturday outside the Cherry Tree pub in Stakeford. It starts at 12pm.
For more information about Calmer Therapy, visit its website http://calmertherapy.co.uk/