IN THE NEWS… DIGITAL CHILDREN'S LIBRARY VISION FOR FENHAM (BRIDGE NORTH EAST)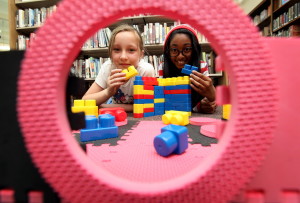 Coverage in The Newcastle Journal and Chronicle.
A vision for a children's library of the future has been unveiled in Fenham.
Fenham Library, which had been threatened with closure, was saved by the social housing company Your Homes Newcastle. It moved its offices there, carried out a major refurbishment and two months ago reopened the library.
Now plans have been revealed to build on that momentum by creating a children's library for the digital age. The ambition is already being shared with libraries across northern England and will be discussed at a major international conference in Paris in August.
As well as Fenham Community Library and Your Homes Newcastle, organisations supporting the project include Ryder Architecture, Sure Start, Shoo Fly Publishing and Bridge North East – which is funded by Arts Council England to improve connections between young people and arts and cultural activities, museums and libraries.
"We want to make libraries attractive, exciting and relevant for the digital age. We want to appeal to families by projecting images on the outside of the building, create giant books at the entrance to the children's library inside and use digital technology to build adventures from stories," said Dawn Williams of Bridge North East.
Shoo Fly's Anne Curtis, who is a digital library consultant for the project, said: "Children from a very young age are technologically and visually literate but might not grow up to be word literate.  We need to create libraries where people do not feel alienated and we believe technology will help achieve this."
Through its work with Bloomsbury Children's Publishing Shoo Fly has secured free use of its images, including Harry Potter, to use in the Fenham children's library.
Librarians will be able to use tablet to project interactive images via a wireless system to enrich traditional storytelling experiences within a library setting. The software can be used by a librarian or child to enrich a story, for example by selecting a bird that starts to sing or making a caterpillar move.
Newcastle City Councillor Marion Talbot, who represents Fenham, said the community which fought to save its library will back the Fenham Children's Library project all the way.
"We are very well equipped with leisure facilities in this area, but there is a void which the library can fill.  We are very keen that it becomes part of our pathway to health," she said.