MP says businesses will benefit from Wilton Centre investment
Redcar MP Jacob Young says companies based at Wilton Centre will benefit from the unprecedented level of investment taking place there and in and around his constituency.
His comments come after details were revealed of a major refurbishment, with nearly £2m being spent on a new entrance and reception area, two new restaurants and a collaboration space.
News of the work at Wilton Centre has been just one of a series of recent announcements confirming an unprecedented vote of confidence in the area.
"Wilton Centre is somewhere I know very well and I am therefore particularly pleased at the level of investment taking place there, and the plans look very impressive," said Mr Young who, before being elected Redcar's first Conservative MP in 2019, worked as a Process Operator on Wilton International site, adjacent to Wilton Centre.
"This news is, of course, on top of the Chancellor's announcement that Teesside would become a Freeport and the confirmation that wind turbine blades are going to be manufactured at Teesworks, creating thousands of jobs.
"I am extremely proud that my constituency is the focus of so many exciting developments which are going to provide fantastic opportunities for the local community for many years to come."
Mr Young added: "Business creates more business and I am confident that any company based at Wilton Centre – or decides to move there – will see the benefit of being in the heart of such a vibrant economic area."
Wilton Centre is home to a number of global multi-national scientific companies and has become increasingly attractive for businesses based in Teesside because of its facilities – ranging from a gym to a lecture theatre – ample parking and its capacity to meet flexible space demands for companies on site.
Occupiers – such as recruitment specialist Techconsult, for example – chose Wilton Centre both because of it what it provides for businesses but also its location.
"It's the logical place to be – in the heart of the industry we're supplying," said operations director Sarah Taylor, "and this area is just going to go from strength to strength.
"We will see the benefits of the investment in Wilton Centre.  In particular, as a small business the reception area will really help create a great first impression for our customers."
Lynas Engineers, a civil engineering and structural engineering design consultancy, came to Wilton Centre more than four years ago to be close to potential sources of work.
"There's a lot of businesses based in the building and close by as well, so there's a really good network," said managing director Rob Lynas.
Like Wilton Centre, another occupier – mini-TANKERS – is also investing.  The company provides a unique service: delivering fuel directly into equipment – such as generators and fork-lift trucks – operated by its customers.
Late last year it moved to Wilton Centre from its site in Wilton International and spent £400,000 on a new compound and two new vehicles.
"They've been very supportive" said managing director Peter Tantram.  "They identified this site for us. We've signed a 10-year lease and we expect to expand as well.
"It's very re-assuring that Wilton Centre are willing to invest at this time. We feel very confident that the partnership will go on for quite a number of years. It's a win, win."
Wilton Centre accommodation manager Claire Morton said providing support for its occupiers, as well as facilitating collaboration between them, were key priorities.
Wilton Centre has remained open throughout the pandemic and new safe ways of working have been introduced on behalf of around half the occupiers who have continued to go there.
Work to deliver the £2m investment is well underway and is due to be finished in the early summer when it is anticipated that remained of the occupiers will return.
For more information about Wilton Centre – the home of business and science on Teesside – contact Claire on 01642 438050 or claire.morton@wiltoncentre.co.uk
Coverage: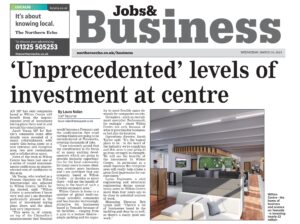 https://www.thenorthernecho.co.uk/news/19198175.wilton-centre-investing-nearly-2-million/
https://www.teesvalleybusinessclub.co.uk/news
https://www.neechamber.co.uk/our-members/news