TV Chef's life transformed by Kitchen Therapy
The return of MasterChef: The Professionals to our television screens has brought back bittersweet memories for one of its former contestants.
Reaching the quarter-finals in 2016 was a dream come true for Matei Baran. It was the third time he had attempted to get on the show – beating competition from 4,000 other chefs and a grilling from producers.
"Getting so far was one of the proudest moments of my career," said the 41-year-old Romanian who now lives on Tyneside and – publicly – revelled in the nickname of Big Chef.
But, looking back, it was also one of the lowest points of his life. His weight ballooned to 28 stones and until this year he had not found the motivation to do anything about it.
"I've been divorced, my son has had to cope with Cystic Fibrosis and my self-confidence went. It's a vicious circle – you don't feel great about yourself when you're that size," he said.
He developed Type 2 diabetes, high blood pressure and a stomach hernia. He also became concerned about his mental health, bringing back terrible memories of a suicide attempt when he was 20: "Even then working in a kitchen was my salvation.  For others it can be really stressful but for me it's always been my happiest place."
Two events in 2019 have changed his life and inspired him to lose a quarter of his body weight in just four months. Before then he would be out of breath bending down to tie his shoelaces. But at the start of November he completed a 10k race in just 80 minutes.
In January he published a book, called Big Chef Mini Chef, which was dedicated to his seven-year-old son Armin. It featured recipes suitable for children affected by Cystic Fibrosis and raised money for the Cystic Fibrosis Trust.
"Armin is my life. I looked in the mirror and thought I'm not going to be around to see him grow up unless I do something about myself. My cooking is all about using fresh ingredients to prepare healthy meals, but I wasn't a good advert," said Matei.
Then, in the summer, he teamed up with the Middlesbrough Football Club Foundation and Middlesbrough College to launch a project called Kitchen Therapy which saw Matei working with people who – like him – had experienced problems with their mental health and self-confidence. In 12 weeks he turned them from cooking novices to promising chefs, who successfully rose to the challenge of preparing a five-course tasting menu for 50 paying guests. According to one of the charities involved they were now able to plan better futures, and trainee John Elliott said the course changed his life.
"I was isolating myself from everybody, I wouldn't go out, I wouldn't go anywhere," said the 62-year-old from Hartlepool. "Since being on this course I've met some lovely people – lovely friends – and I don't know where I would have been without it.  I might have still been at home or in a hospital.
"Kitchen Therapy has given me a lot of help and support. Chef Matei has been brilliant. He's helped me all the way."
Matei said hearing stories like John's made him stop and think about his own life. He joined a gym, cut out sugary drinks and received long-distant support from Marysia Szmagara, a fitness enthusiast living in Dublin, who responded to a social media post.
He lost more than six stones in four months, his diabetes is under control and his doctor is stunned by his transformation.
"My message to anybody who is struggling with their weight and self-esteem is that if I can do it, so can you.  It's cost me a gym membership and some new clothes, but it's bought me far more than that," he said.
He achieved his target of competing in the 10k MoRun, running alongside Marysia. The event supported The Movember Foundation, which raises funds and awareness for prostate cancer, testicular cancer, men's mental health and suicide prevention.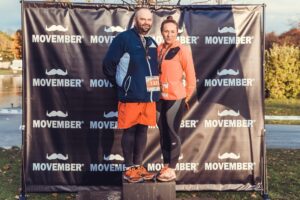 "I wanted to support the charity, but never thought I would be able to do it by running – and I ran 70% of the way. I just hope my story will somehow inspire others," said Matei, who is certain he will continue living healthily and use his cooking expertise to help others.
Last month he was invited to run a masterclass for students in Newcastle to show them how to eat well on a tight budget, and he has plans to take his Kitchen Therapy project to one of the most deprived areas of the UK.