Master chef appointed at new Tynemouth restaurant
A quarter-finalist from television's Master Chef: the Professionals has been appointed as the executive head chef of a new restaurant in Tynemouth.
Forty-year-old Matei Baran is in charge of the kitchen of The Salt Cove at the iconic Park Hotel Tynemouth.
The hotel is undergoing a £3m transformation which has seen the refurbishment of all 55 guest rooms and the creation of The Salt Cove restaurant which can seat 120 customers and opens to the public on 28 September.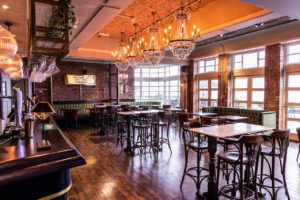 Matei, who moved to the North East from his native Romania in 2009, is already well-known by the region's fans of fine food. He has been the head chef at Newcastle's Jurys Inn and executive head chef at the Bannatyne Hotel, Darlington and Northumberland Arms in Felton.
"All my family – my father, my grandmothers – they always cooked at home. For me it's a passion. I think I have it in my blood," he said.
He arrived in the North East by chance after being offered a job in Otterburn and, alongside the experience of working in a professional kitchen, trained at Newcastle College.
In 2016 Matei qualified for the televised rounds of Master Chef: the Professionals but broke his hand playing football in a charity event the day before his first appearance. "I couldn't bend my hand, I couldn't hold a knife but I knew that if I told them they wouldn't let me compete," he said.
Nevertheless he reached the quarter finals and Matei said that same will to succeed will put The Salt Cove on the culinary map.
"I'm really excited because I've never opened a restaurant," he said. "The owners understand what they will get from me and I know what they want. In six months I think this place will be heaving.
"The competition is huge around here, so you need to come up with something new and tasty. I know – because we are right by the sea – that people will expect the menu to be 90% seafood. But if you look around everything is fish, fish, fish, so we're aiming for 40% fish and 60% on the meatier side."
Matei is already developing relationships with local producers and, once the restaurant is established, he plans to hold special dining events at The Salt Cove.
The Park Hotel Tynemouth's hotel's sales & marketing manager Kara Beecroft said recruiting Matei was the icing on the cake. "The restaurant looks fantastic and we now have somebody who will provide our customers with the food to match their surroundings," she said.
"The transformation of the hotel and creation of The Salt Cove has taken a long time and cost a significant amount of money, but everything is now ready for guests and customers to see the results of a lot of planning and hard work."
For more information about The Salt Cove visit www.saltcove.co.uk
Coverage:
https://www.newsguardian.co.uk/news/master-chef-appointed-at-new-tynemouth-restaurant-1-9365573
https://www.chroniclelive.co.uk/news/north-east-news/masterchef-professionals-park-hotel-tynemouth-15151929