Big Chef Little Chef book launched by TV Master Chef
TV MasterChef quarter-finalist Matei Baran has unveiled plans for a book which will celebrate the bond he has with his son, who suffers from a life-limiting illness, and encourage young children to cook healthy food.
Armin was born with cystic fibrosis and was a seriously ill baby. Operations, daily medication, physiotherapy, physical activity and a healthy diet means that on the surface he now seems like most other six-year-olds.
"If you look at him you would never know. They don't look ill, but believe me the struggle is inside.  All the pain is inside the body," said his mother Luminita Hatneanu.
"He says he wants to be a chef and he wants to be a doctor and he wants to save people's lives. Armin loves cooking and he loves food.  He's very proud of his dad's job.  The book shows the bond between Matei and his son.
She added: "It's important the way you live, not how many years you live.  I'm very proud of them both.  It's their story."
Big Chef Little Chef will feature recipes prepared by Matei and Armin with the help of other little chefs. "It's all about cooking for kids with kids," said Matei.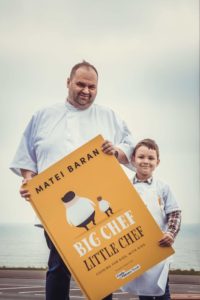 Proceeds from the book will go to the Cystic Fibrosis Trust.  Its community fund-raiser in the North Gemma Williamson said generating support for the charity can be a challenge because of the hidden nature of the illness.
"As well as raising money it will also help to get people to understand," she said.  "I think it's fantastic and really inspiring. The parents of children with cystic fibrosis will really love the idea, especially all the different recipes."
Big Chef Little Chef was launched soon after the BBC's Children in Need programme showed a film about a nine-year-old girl with cystic fibrosis who has to take 36 tablets a day.
"The children watched it and it's brought causes like this home to them," said Lee Hall from Tynemouth, whose children Clementine, eight, and Morris, six, will be helping Matei and Armin and – he hopes – improve their own cooking skills.  "We made some home-made pasta recently and there was more mess than anything else.  It was just about edible," he said.
Laura Stidolph from South Shields used to be a receptionist at The County Hotel in Newcastle, where Matei also worked. "Every time I had a lunch break he would send a really nice pasta meal through.  I used to really look forward to my lunch breaks just because of him," she said.
"The book's a fantastic idea. I saw his appeal on Facebook for kids to be involved so volunteered my nephews.  They'd said they wanted to learn to cook, so it's just perfect."
Other little chefs include Nicholas and Charles Armstrong from Monkseaton. "They really enjoy cooking at home.  Their mother's a good cook, I'm not," said their dad Simon. "We try to get them to eat healthily – their greens and fruit….they love all that kind of stuff. I wasn't brought up with that, but I want to try to encourage them.
"I used to be in the army and I've run the London Marathon on behalf of the Cystic Fibrosis Trust.  It's a great charity.  It's a horrible, horrible disease.  I think it goes un-noticed because it's a gradual disease which gets worse and worse."
Romanian-born Matei Baran, 40, is the executive head chef of the Salt Cove restaurant in Tynemouth, which opened in September.
He moved to the North East in 2009 and has been the head chef at Newcastle's Jurys Inn and executive head chef at the Bannatyne Hotel, Darlington and Northumberland Arms in Felton.
In 2016 Matei qualified for the televised rounds of Master Chef: the Professionals but broke his hand playing football in a charity event the day before his first appearance.  Nevertheless he still reached the quarter finals.
"I've been thinking about this book for a while and when I saw a photograph of Armin and me walking side by side, the idea of calling it Big Chef, Little Chef came to me," he said.  The photograph was the inspiration for the image which will feature on the book's front cover and on the little chefs' aprons.
"Every dad is proud of his children and Armin is so brave and happy that I wanted us to do something really special together.  Eating healthy food is so important – and not just for children with cystic fibrosis.  Learning about ingredients and cooking when you are very young means you have a lifetime of understanding and enjoyment of good food ahead of you."
Food wholesalers Bidfood, based in Gateshead, and Delifresh from Cramlington are supporting the project.
Big Chef Little Chef will be published in early 2019.
Coverage: http://https://www.newsguardian.co.uk/news/tv-masterchef-s-inspiring-new-cook-book-1-9482085
Tynemouth chef who competed on TV's Masterchef writes cook book for children after being inspired by his son https://t.co/BNVGISlCRL pic.twitter.com/yoGhV3oGJ4

— News Guardian (@thenewsguardian) December 7, 2018